I recently emailed back and forth with a ministry friend who was wondering if she was "whimping out" about following God or He was guiding through the circumstances.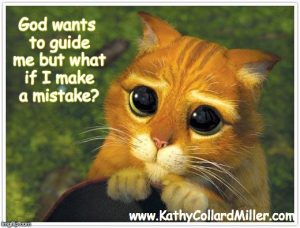 I wasn't sure I understood what she meant by "whimping out" so I asked her to explain. She told me that since opportunities to serve God weren't surfacing in the way she experienced in the past, she wondered if that was God's way of saying change her direction or she was misinterpreting it. Maybe He wanted her to persevere but she didn't have the courage to continue on because of so many obstacles and little "fruit." Which option was true?
I could relate. Two years ago I was seriously considering stopping my writing and speaking. I wondered, "God, are these obstacles and closed doors your way of saying this isn't your will for me anymore? I don't know. I'm willing to do whatever you want, Lord, but it's sure not making sense to me. Guide me. I don't want to stop because I'm lacking trust or perseverance."
I sincerely didn't know what God wanted me to do. The direction wasn't clear.
I think this kind of situation is true for many of us. We want to do God's will but it's not clear, and we can't seem to discern our heart's motives. Many times we are terrified of doing the wrong thing.
I remember years ago talking with my friend about whether she and her husband should adopt. They had two children already but they wondered if it was God's will to enlarge their family by adopting. She expressed her fear of doing the wrong thing.
I shared that as long as she was sincerely seeking God and willing to do what He wanted them to do, even if she made a mistake, God could cover it. He could fulfill His will for them even after a wrong turn because He is powerful enough to correct mistakes, even sins. Their desire to obey was the most important thing.
They decided not to adopt and as it turned out, they didn't regret it. She said she felt more peace knowing that even if they took a wrong turn, God could still guide them to His will.
Tweet this:
The LORD will accomplish what concerns me;
Your lovingkindness, O LORD, is everlasting;
Do not forsake the works of Your hands. (NASB)
If you want to do what God wants you to do, that's the heart of the matter. Be confident. He knows you want to follow. If you can delay making a decision, do that. If a decision must absolutely be made, choose how God seems to be leading the most and then trust He is powerful enough to even take care of a mistake. He will accomplish His glory through us because He loves us and won't ever forsake us even if we've taken the wrong path.
As for my situation, God did lead and guide in His time to new adventures and opportunities in writing and speaking that I could not have created. But you knew that, didn't you? I'm still here.
Do you have any suggestions, ideas, or principles about being afraid of making a mistake in following God? Please share it with us in the comments section.