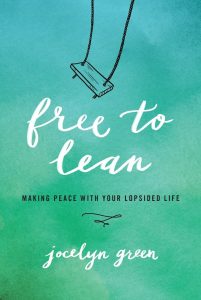 I'm so pleased to feature a new book, Free to Lean: Making Peace with Your Lopsided Life, by Jocelyn Green and a Foreword by Susie Larson. And guess what? Jocelyn is making a copy of Free to Lean available for a Book Giveaway! I'll give more details below.

And y'know what makes Jocelyn book even more thrilling than her fabulous and needed message is that there are stories and quotes from close to fifty women in all seasons of life, including businesswomen, moms, caregivers, military wives, U.S. Olympian Shawn Johnson, Fixer Upper star Joanna Gaines, singer/songwriter Nichole Nordeman, and more. Hmmmm, fabulous. And may I humbly say that I, Kathy, have a little story in there too? I'm so pleased to be a part of this.
So here are Jocelyn's goals for Free to Lean:
"Listen up, ladies! Are you tired of always feeling like you don't quite measure up? (Tweet that!) Do you wish you had more hours in the day to complete your to-do list? You are not alone! We all want a well-balanced life where we have time for everything we want to accomplish. But a "balanced life" should not be our goal—our goal should be to follow after Jesus. Then He will show us our priorities.
"I have my own lopsided life, and I understand the struggles of trying to do all things well. I came to the conclusion in my own life that 'balance is bunk.' Although we can and should work hard at whatever is on our plate, we need to admit that it's not possible to do everything with equal zest. We all go through seasons of life, and God gives us certain responsibilities for certain times. We need to embrace those seasons and live in harmony with them."
Here's an
excerpt

,
from Chapter 2: Unapologetically Focused
My grip tightened on the phone I held to my ear. For a moment, I was too stunned to respond.
I had just explained to a woman that my existing commitments prevented me from accepting a position on the board of directors for a local girls' organization. I didn't expect her to be happy about it. But I didn't expect her to say what she said, either.
"Excuse me?" I managed to squeak out.
"I said I forgive you," the voice on the other end of the line repeated. "I forgive you for this, because Jesus forgave me for my sins."
Hmm.
Usually, I'm a sucker for false guilt, but that comment did not work on me.
Can you and I agree on something right now? It is not a sin to know and communicate our limits. It is not a sin to prioritize and make choices that best align with God's purpose for ourselves and for the health of our families. If you only remember one thing from this chapter, let this be it.
God doesn't require us to say yes to every request for our time and energy. Consider the words of Jesus in Luke 14:28. "Suppose one of you wants to build a tower. Won't you first sit down and estimate the cost to see if you have enough money to complete it?" Before adding another commitment to our lives, the responsible thing is to calculate whether we have the resources to see it through. And our available resources, including time and energy, will always depend on our current season."
Thank you for sharing that excerpt, Jocelyn. How true! How true! I like to say, "An opportunity is not necessarily God's open door." I also am learning to say yes or no as God leads–regardless of the pressure of

others

. It's a long journey.
Here's how Free to Lean will help us:
> Stop feeling "less than" for not being able to do more
> Shed the burden of other people's expectations
> Find ways to prioritize and order your life
> Learn to recognize the various seasons in each of our lives
> Develop the five pillars even the unbalanced woman must lean upon
> Grow in your confidence of God's plans for your life
So, gals, grab your cup of coffee and your copy of Free to Lean. Stop feeling guilty about not "doing it all," and refocus your thoughts on leaning into Jesus. Allow Him to make your lopsided life complete.
Read Jocelyn's book. It
is available at your local bookstore, and at
Amazon
,
ChristianBook
,
BarnesandNoble
,
and other online retailers.
Who is Jocelyn?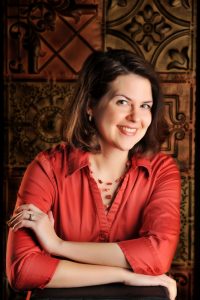 Jocelyn Green inspires faith and courage as the award-winning and bestselling author of numerous fiction and nonfiction books, including The Mark of the King; Wedded to War, a Christy Award finalist in 2013; and The 5 Love Languages Military Edition, which she coauthored with bestselling author Dr. Gary Chapman. She graduated from Taylor University in Upland, Indiana, with a B.A. in English, concentration in writing.
She is an active member of the Christian Authors Network, the Advanced Writers and Speakers Association, American Christian Fiction Writers, and the Military Writers Society of America. She loves Mexican food, Broadway musicals, Toblerone chocolate bars, the color red, and reading on her patio. Jocelyn lives with her husband Rob and two children in Cedar Falls, Iowa. Visit her at
www.jocelyngreen.com
.
Ready to put your name into the drawing? Comment on my blog or email me at KathyCollardMiller AT gmail DOT com.
I will draw the winner next Friday night, July 7, 2017 and announce the winner on the next day's post. Check back then.