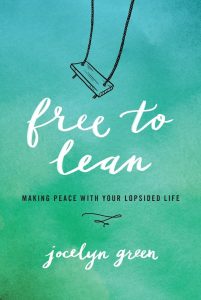 The book give-away for Jocelyn Green's book Free to Lean: Making Peace with Your Lopsided Life is still going on so I thought I'd include here the snippet she included of mine in her book.

Click on original post to learn more information about the book.
To put your name into the drawing to win an autographed copy from Jocelyn, make a comment on my blog or email me: KathyCollardMiller AT gmail DOT com. I'll draw the winner this Friday late evening, July 7, 2017.
Here's what Jocelyn included which is from my book, Never Ever be the Same: A New You Starts Today (co-authored with my husband Larry):
I have long struggled with criticizing myself because my efforts and time spent feels like I'm never doing enough. I compare myself to other mothers, wives, writers, and speakers. (Tweet that!)
I think, "Look at all they are doing and I'm not." As a recovering perfectionist, if I wasn't doing it "all," I wasn't doing "anything." That's the all-or-nothing perspective of a perfectionist. But God has been dealing with this tendency for a long time because it essentially means I'm not trusting God.
In particular, He used Zechariah 4:10 to teach me His perspective, which says, "For whoever has despised the day of small things shall rejoice, and shall see the plumb line in the hand of Zerubbabel."
At the time of Zechariah's writing, some older people were unimpressed with the construction of the new Temple. They remembered the "old" Temple that had been destroyed in their lifetime. They had seen the magnificent Temple built by Solomon, and to them, this replacement didn't compare. They called the new construction "a small thing" but God (through Zechariah) says, "Who is calling my work 'small'? Anything I do is big!" That's his message through the prophet Haggai in Haggai 2:3-4,9:
'Who is left among you who saw this house in its former glory? How do you see it now? Is it not as nothing in your eyes? Yet now be strong, O Zerubbabel, declares the Lord. Be strong, O Joshua, son of Jehozadak, the high priest. Be strong, all you people of the land, declares the Lord. Work, for I am with you, declares the Lord of hosts,…The latter glory of this house shall be greater than the former, says the Lord of hosts. And in this place I will give peace, declares the Lord of hosts.'"
Here are some "small" thoughts.


What seems small doesn't mean meaningless.

What seems small is often the beginning of something big for God.

God values "small" because then he is glorified when it brings great results.

God chooses weak vessels so that he will be glorified.

Your first step is important. Don't give up.
One way God taught me the value of small growth steps in my life was while taking care of my mother-in-law, Audrey. In the two-and-a-half years she lived with us before her death, God did a mighty work in me (and both of us) to learn and grow in so many ways. I learned to slow down my reaction and work through what was really going on within me. Little by little, I grew in my ability to listen to the Holy Spirit asking me questions about my motives. Quite often those questions helped me see how I was leaving God out of my life and trying to live on my own terms.
I remember one morning Audrey was eating her bran cereal. Every morning I had to soak the cereal in milk for at least thirty minutes to make it soft. But this morning the delusion of her Lewy Body Dementia was "alive."
She said to me, "There're rocks in my cereal. I know you're trying to kill me."
I could feel the hair on the back of my neck begin to rise. But I stopped myself, and prayed quickly, "Lord, this is my old pattern of wanting to be approved and not wanting to be seen as undependable. I'm going to pause because I know in Christ I am dependable, loved, and approved." I relaxed yet wasn't ready for what happened next.
Audrey mumbled something else and then said, "And I wish you'd do a better job of it."
Of course, she meant that I should make her cereal "better" without rocks. But the juxtaposition was funny. I should do a better job of killing her? I stifled a laugh and wasn't upset—for once!
Another morning she shuffled down the hall toward me exclaiming, "Don't lie to me, you attacked me last night!"
Oh! That is one of my hot buttons of being called a liar. I so wanted to be mean in return, but I again slowed down my reaction and prayed, asking God to help me see myself as he sees me—as a daughter of the King. The Lord gave me compassion for Audrey who was also a daughter of the King, yet was mentally influenced by dementia. Her words didn't bother me in the least. God was doing a work within me of "small things" and although I still reacted in unloving ways at times, those reactions diminished over time.
God was making small inroads into my wrong belief that I must do everything perfectly. (Tweet that!)
(excerpt from Never Ever Be the Same: A New You Starts Today)