Welcome to my newly designed website. I'm so grateful for your visit that I'm having a drawing for two winners, each receiving a $20 Amazon gift card and a copy of my women's Bible study, Whispers of My Heart: Daughters of the King Bible Study Series. All you have to do to enter is make a comment on the blog post or send me a comment through my website. I'll draw the winner Thursday evening, August 3, 2017.
And while you're there/here, consider subscribing to receive my blog posts through email. There's a gift included!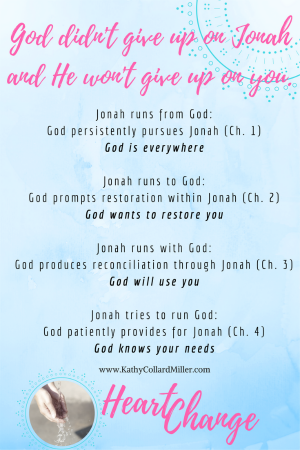 God doesn't give up on you–ever!
Is that hard to believe? I understand. It's hard for me.
I thought years ago when I was physically abusing our two-year-old daughter that God had given up on me–forever. But God delivered me and ended up giving me a ministry through what I learned. During that hopeless time, if I had studied the biblical book of Jonah, I think I would have known He hadn't given up on me, He just had a different plan than I wanted. That's one of the many messages from Jonah. Let's check it out.
If you haven't read the short, four chapters of Jonah, here's the basic story:
Chapter 1: Jonah runs from God: God persistently pursues Jonah

Chapter 2: Jonah runs to God: God prompts restoration with Jonah

Chapter 3: Jonah runs with God: God produces reconciliation through Jonah

Chapter 4: Jonah tries to run God: God patiently provides for Jonah
In Chapter 1, God tells Jonah to go to Nineveh to tell them to repent. Jonah hates the Ninevites because they are the wickedest people on earth and he doesn't want them to repent. He pays passage on a ship to go the opposite direction of Nineveh. God then goes to great lengths to persistently pursuing Jonah. I would have given up on Jonah! But God doesn't. Jonah thinks he can run away from God's presence and sometimes we think that too. But we can never go to where God isn't. For Jonah, God shows His pursuing power through storms on the sea that terrify seasoned sailors. They confront Jonah and he confesses he's the problem. "Throw me overboard and the seas will quiet." Those unbelieving sailors quickly believe in Jonah's God in spite of his bad representation and ask God's forgiveness for throwing Jonah overboard. And that's where the famous whale shows up! Gulp! Gulp! Jonah is in the belly of the whale for three days and three nights.
In Chapter 2, God prompts restoration with Jonah and Jonah prays for deliverance. Jonah runs to God and recognizes his need. Jonah 2:9 gives Jonah's cry: "Salvation is from the Lord." God prompts the whale to vomit him onto the dry ground.
In Chapter 3, Jonah runs with God and in His power, Jonah speaks doom and gloom to the Ninevites and they repent wholeheartedly–exactly what Jonah didn't want.
In Chapter 4, Jonah whines and complains because he didn't want the Ninevites to repent. Jonah knew God would be merciful and spare them. He wanted them dead as unbelievers in Jehovah. But he also would be seen as a liar if his prediction didn't come true. Regardless of Jonah's horrible attitude, God provides for Jonah with encouragement and physical comfort. And God lovingly shares His own heart of mercy for those who don't know Him.
You may feel like Jonah. Jonah complains, "O Lord, please take my life from me, for death is better to me than life." I was suicidal when God didn't answer my prayer for an instantaneous deliverance. Jonah also thought he knew best and being wrong in his prediction was worse than life.
We don't know anything about Jonah after God pleaded with him to see His own loving and merciful heart.
You can be assured that God's same heart of love and mercy is for you!