I grew up hearing "God helps those who help themselves." I thought it was true. I took from that phrase that God wanted me to take care of the little things and go to Him for the big things. "Try first," it seemed to say, "help myself first, and then if I can't handle it, turn to God."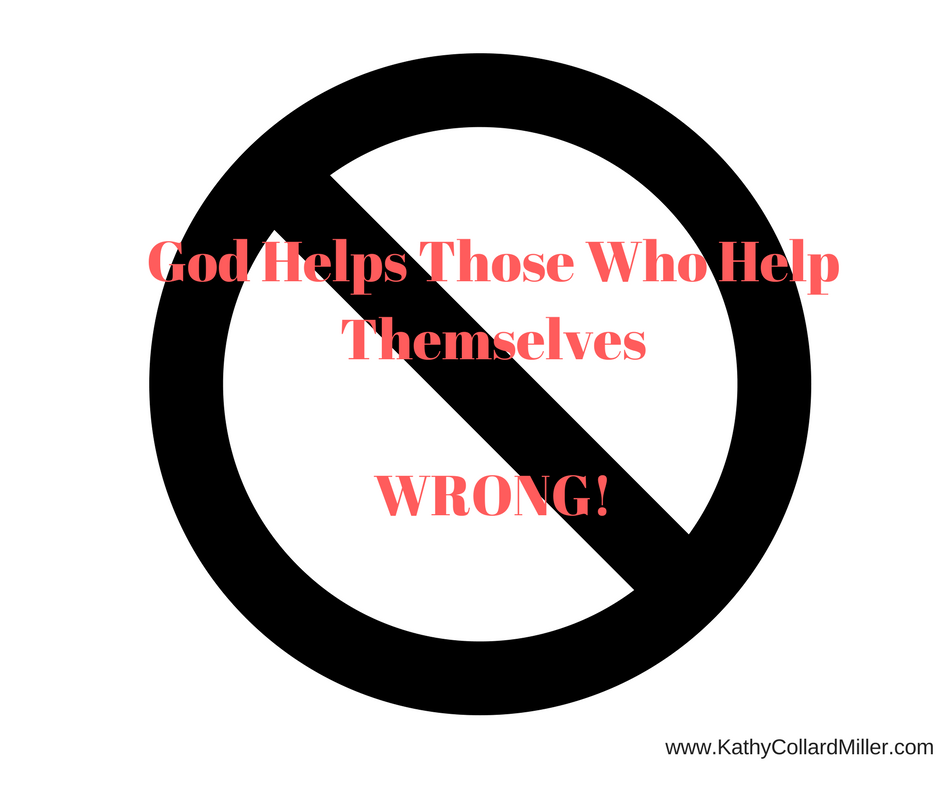 As a little girl, I feared if I came to Him too quickly, He might say, "You haven't tried hard enough. Go back and try again."
It reminded me of the time I couldn't figure out a math question and I approached the teacher for help. She responded, "You can do it. Go back to your seat and try again." I can't remember if I figured it out or not but I doubt I was eager to seek her help again. How did I know when I had tried hard enough? Who could tell me?
Maybe that also seemed to communicate something similar about God. Try to help myself … be tense wondering if I've tried hard enough … and then if I still can't figure it out, ask God.
I'm so grateful "God helps those who help themselves" is a lie and Scripture actually says the opposite. Let's look at a verse that might not initially seem to tell us that.
Romans 8:26: "In the same way the Spirit also helps our weakness; for we do not know how to pray as we should, but the Spirit Himself intercedes for us with groaning too deep for words."
I notice there's no definition of "weakness."

There's no limits for what kind of weaknesses He will help us with.

There's no "big" or "little" weakness referred to.
The verse refers to every and any kind of weakness. God is not picky. The Holy Spirit helps and prays for anything even with groans too deep for words. And the Father doesn't reprimand His Spirit with, "Haven't you learned yet? I don't need to hear about small weaknesses. Tell Kathy she can handle that herself." Absolutely not!
Hebrews 4:16 indicates the same thing: "Let us then with confidence draw near to the throne of grace, that we may receive mercy and find grace to help in time of need." Again, no definitions of what kind of "need." Abundant grace is available for all and any kind of need.
God doesn't ever pour contempt on our weaknesses. In a strange way, our weakness can bring a positive response of seeing our need of an Almighty God who cares about every area of our lives—seemingly significant or insignificant. Only on earth is there a differentiation of "big" or "little" needs. But in God's perspective, there isn't. The Apostle Paul in Philippians 4:13 says, "I can do all things through Christ who strengthens me." Again, there is no differentiation of the difficulty of the "thing."
There's a purpose in us needing Him for any and all needs: we turn to Him more often. We concentrate on Him more often. We learn to abide more often. If the need were limited God would respond to, it would also limit the times we would turn to Him. And it would limit His glory being revealed because we receive the glory for doing things we're capable of in our own power–or that we try mighty hard to conquer on our own.
The same encouragement applies to when we don't know what to ask for. After we ask, God never says, "Wrong! Too bad! You didn't ask for the right thing or in the right way." Absolutely not!
Our tendency to think God will reject our plea for a seemingly "little" thing could spring from someone shaming us as a child if we said the wrong thing or asked for something in the wrong way…or with an imperfect attitude.
Sometimes I even told my children, "Get your attitude straightened out before you come to me with that." I was wrong to say that. If they are coming to me for help, then whatever they offer me can be worked with. Psalm 103:14 says, "As a father shows compassion to his children, so the Lord shows compassion to those who fear him. For he knows our frame; he remembers that we are dust." Why? Because He's the One who created us from dust!
God created us from dust with weaknesses and needs for His glory! He could have created us capable of doing everything on our own and then leave us behind shaking the dust off His hands, saying, "Oh good, I don't have to deal with that any more. One more thing on my to-do list taken care of."
You and I may feel that way but He knew He was creating us to need Him. He wants fellowship with us through us seeking Him. And He is glorified as He comes through for us. No matter the need.
So what do you think about "God helps those who help themselves"? Please share what you're thinking in the comment section below and let's chat about it. I want to hear your perspective.