It's Book Give-away time for this month and I'm so very happy to welcome author and speaker Erica Wiggenhorn. She blesses me through everything she does and her latest book is powerful.
The Unexplainable Church: Reigniting the Mission of the Early Believers! is the second in her women's Bible study going through the book of Acts and it covers Acts 13-28. In the introduction you'll read below, you'll hear Erica's heart to woo us closer to God through studying the Apostle Paul and the early church. This study book is perfect for individual and group use.
For the drawing for The Unexplainable Church, please make a comment in the comment section below or contact me through the Contact page on my website. I'll draw the winner on Sunday evening November 12th, 2017.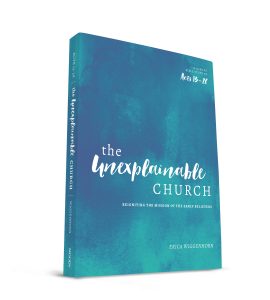 The Unexplainable Church & Your Divine Invitation
by Erica Wiggenhorn
Do you realize that God chose you for a special work designed just for you before time began?
So many of us feel there must be more to this daily Christian life than we are currently living, but we can't put our finger on what we're missing. The Unexplainable Church helps you and me open and discover our own divine invitation: a personal call from God to experience all He has planned for you.
Amongst many themes, that's the theme of the stories in Acts 13-28.
The Apostle Paul is the primary character within the stories of Acts 13-28 and he wrote, "But by the grace of God I am what I am, and his grace toward me was not in vain. On the contrary, I worked harder than any of them, though it was not I, but the grace of God that is with me."– (1 Corinthians 15:10),
I meditated on this verse while writing this study.
How does the grace of God work harder within us?

How do we promote its fruit in our lives?

Can we accept the grace of God as an intellectual assent and not experience any of its effects?
Many Christians rest in the assurance of God's grace to take them to heaven, yet experience little of its ramifications in their daily lives. Or they yearn for more. There is a stirring in their soul, ushering them to experience the fullness of God's grace in their lives. A whisper offering a divine invitation–but how?
The fifty-day journey of studying Acts 13-28 within The Unexplainable Church is an invitation to walk alongside Paul, a man who never got over the awe and wonder of God's grace. For years he had sought God's favor through a religion of works, spiritual disciplines, knowledge and service. Then he met Jesus, and after approximately a decade of understanding Jesus as the Messiah, he finally came to the realization of the fullness of His grace.
And he was never the same again.
Rather than resting on a bed of laurels at the gift of grace he had been given, he strove even harder to ensure that God's grace to him was not in vain. He accepted the divine invitation and most likely met his Savior with a clear conscience and no regrets.
My prayer in studying Acts 13-28 is this: May God reignite the awe and wonder of His grace within each of us. As we pursue Him with everything we have, may His grace abound so lavishly over us that we will never be the same. May we race with anticipation to accept our divine invitation and discover all that God has for us in living out the mission of the unexplainable church.
And may the world never be the same.
Thank you, Erica, for sharing with us about this powerful Bible study and about your own call of God's divine invitation. And thank you for sending an autographed copy out to the winner of the drawing.

Erica Wiggenhorn is the founder of EveryLifeMinistries, bringing the truths of Scripture to transform lives. She teaches in various local and national venues and serves on the women's ministry leadership team for her church. She's also taught women in the Arizona State Prison system, and overseas. She loves to bring God's Word through Bible teaching, conferences, seminars and retreats. A graduate of Azusa Pacific University, Erica lives in Phoenix with her husband, Jonathan, and their two children, Eliana and Nathan. For more information about Erica, her Bible studies, and writing/speaking ministry, visit www.EricaWiggenhorn.com.
Please enter your name into the drawing by commenting in the Comment section below or by contacting me through the "Contact" page on my website. I know whoever receives Erica's book will be strengthened in her walk with Christ. (Only those with USA addresses can be considered in the drawing.)