Kindle of Pure-Hearted is 99 cents this week!
Through this Saturday, January 20th, 2018, the Kindle version of Pure-Hearted is only 99 cents!
I wanted to alert you and also share a snippet from my book that I hope will encourage you.
But even before I do that, I'm excited to announce the winner from my giveaway of Janet Thompson's book, Mentoring for All Seasons. The winner is… Drum Roll…Elaine!
Congratulations! I'll be passing along your information to Janet and you'll be hearing from her as soon as possible. And thank you to everyone for participating. You can purchase Janet's book online and in local bookstores.
Now I'd like to share a little snippet from Pure-Hearted: The Blessings of Living Out God's Glory. I hope it will strengthen your trust in God and diminish the tension of worry.
Why Do We Worry?
It's been said, "Worry is like a rocking chair. It gives you something to do but you don't go anywhere." Yet somehow worry does seem to assure us we're going somewhere—even to the point it feels good! But why?
Worry can be motivated by several heart commitments.
    •    Worry helps me feel like I know what's best. 
Every time we worry, we're saying we know better than God. Sara worries constantly about her children. She believes any difficulty is not good for them. Her worry, which she calls prayer, tells God what to do. She experienced very painful things in her childhood, so she has to convince God challenges aren't good for her children.
    •    Worry helps me feel powerful. 
I grew up hearing, "Why, of course worry works. What I worry about doesn't happen." That shows how we're trying to impotently control circumstances rather than trusting the most powerful potentate there is. The next time you are tempted to worry, ask God, "Am I demanding my own way to feel powerful?"
    •    Worry helps me feel included. 
When something threatening occurs to those I love, and I'm not being included, Satan whispers, "I guess they don't think you're very important." I can text or email and say, "I was worried about you," with the hope they'll respond. We're depending upon another to feel included, instead of knowing God always is attentive to us.
In each of these situations, the Holy Spirit is eager to reveal our motives and empower us to resist worry.
If you can identify with any of those motivations, remind yourself, like rocking in a rocking chair, you don't go anywhere—except to tension and anxiety. Pay attention to what's motivating you and consciously rehearse God's faithfulness, power, and sovereignty. He is big enough to fight for you. No need to worry. He knows exactly how he intends to bring good for you and glory for himself.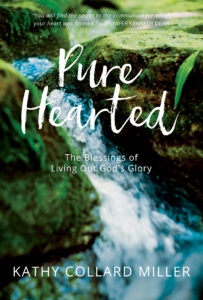 (adapted from Pure-Hearted: The Blessings of Living Out God's Glory. Click here to purchase or find out more information.)