We all know the story of the Prodigal Son, right? But have you ever paid attention to the "Elder Son" in the story? That's what Righteous and Lost is about.
We tend to think of the lesson from the lost son rather than the brother/son who considered himself righteous. Unfortunately, the Elder Son was just as lost as his brother who left, but in different ways–and he didn't know it. Sometimes I can be like the righteous Elder Son and I'm acting just as much as the lost sibling. That's why I'm excited about featuring Michelle Lazurek's new book Righteous and Lost: Finding Hope for the Pharisee Within. We all can respond as a Pharisee at times and Michelle helps us deal with that.
Michelle will send a copy to the winner of the drawing. So after you read her wise words, find out below how to put your name into the drawing.
By the way, don't let the thought of possibly being like the Elder Brother at times turn you away from this book. I admit that seems intimidating. But Michelle's book gently offers insights and hope for godly living and being the loving and emotionally stable person you want to be. And I love how each chapter dissects a verse in the story of the Prodigal Son. I love books like that. Michelle is fabulous at including stories of her own to bring the story alive. So here is an excerpt from her book.
Becoming Spiritually Unstuck
by Michelle S. Lazurek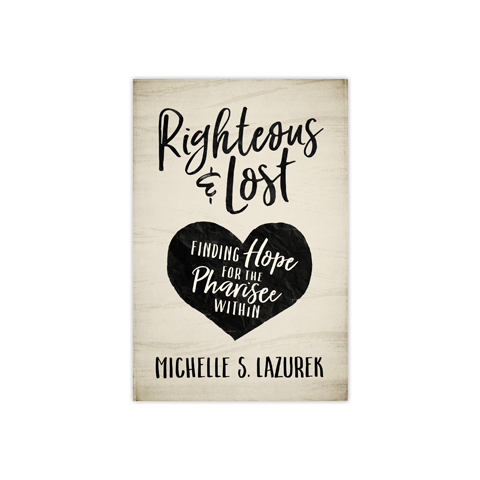 Attending church as I normally did one Sunday, I sat in my same seat, greeted the same people, and went through the normal Sunday morning routine. Listening to my husband preach that morning, he challenged the congregation to come up for prayer if they wanted more of God. A few people went up to the front of the altar, and many people surrounded them in prayer as they prayed that the Holy Spirit would pour himself out on his people.
In fact, I couldn't remember the last time I wanted more of God. How could a pastor's wife be stuck spiritually? I attended church weekly, occasionally opened my Bible, and prayed whenever I wanted something that was important to me. I was surviving, but I wasn't thriving. In short, I was stuck. Like a set of tires spinning wildly, I was hopelessly trying to achieve intimacy with God but getting nowhere.
Maybe you feel like I felt that day. Maybe you crack open your Bible, point to a random verse and start reading, hoping the Lord will speak to you after months (or maybe even years) of silence. Perhaps you feel utterly alone, hopeless that you will ever have that intimate connection you so desperately seek.
But there's hope. If you've ever felt like something was missing in your life, you are not alone.
God created the heavens and the earth. But he knew something was missing. Since the beginning of time, the earth as we know it has had a void, an emptiness that only God can fill. God has been trying to fill the void in our lives ever since. God's intention, even in paradise, is for us to never feel that void. He wants us to fill it with the joy that comes from fellowship with him rather than remain (like the earth) formless and empty. He hovers over us, too, waiting to allow his people to drink from the waters that flow from that fellowship. But unfortunately, a religious spirit creeps into us, filling our hearts with pride and tearing others down instead of building them up
The oldest brother in the Prodigal Son story symbolizes a lot of us in our spiritual walks. Serving the Lord for years and going through the motions, we have forgotten what it is like to enjoy the love of the father and bask in His presence.. But there's hope.
Pray and ask God to rid your soul of any pride or sin preventing you from having the intimate fellowship God desires. If you don't know what to pray, try this:
"Lord, reveal to me the areas in my life where I have chosen to focus on myself rather than others. Help me enjoy the gift of your fellowship and see my brothers and sisters the way you see them: bearers of your image saved by your grace. Amen."
Thank you, Michelle, for giving us hope.
I so appreciate Michelle's insights in her book and in it, you will:
explore biblical passages that will help you embrace the love of your Heavenly Father
identify symptoms of a religious spirit
analyze how a religious spirit can block you from a relationships with God
apply practical tips and advice to prevent a religious spirit from coming back
delve into deeper study at the end of each chapter with discussion questions great for individual or group study.
To enter the drawing, please make any comment in the comment section of my blog. I will draw the winner at 9pm February 14th. Book giveaway is for US addresses only. 
To purchase Michelle's book, contact her local Christian bookstore or go to any online book seller.
Michelle S. Lazurek is a mother, pastor's wife, award-winning author, and speaker. Winner of the Golden Scroll Children's Book of the Year and the Enduring Light Silver Medal, she is a member of the Christian Author's Network and the Advanced Writers and Speakers Association.
A junior associate agent with Wordwise Media Services, she teaches at various writers' workshops. Her other book with Leafwood Publishers is An Invitation to the Table. She and her family live in Coudersport, Pennsylvania.
Visit her at www.michellelazurek.com.