Bible Study Expo Coming Thursday, March 15th!
This is an exciting opportunity to look forward to–It's FREE!
There will be books given away every 20 minutes from authors like: Pam Farrel, Hayley DiMarco, Katy Kaufman, Rhonda Stoppe, Sharla Fritz, Saundra Dalton-Smith, Michele Cushatt, Jessica Seneca, and Carey Scott.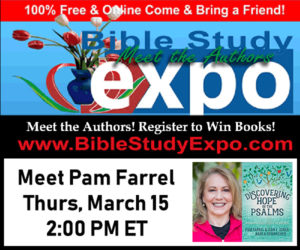 Here's an interview with Pam Farrel, author of Discovering Hope in the Psalms–a great book! Pam will be participating in the Bible Study Expo. (www.Biblestudyexpo.com).
Do you have any conferences you especially enjoy?
I enjoy the Just Between Us annual women in leadership conference in Forest Springs WI
Do you have a theme verse for life?
My life verse is described on our wedding gift: We LOVE because [God] first loved us -1 John 4:19
Do you write alone or in public?
My most productive writing time is when I get off grid at a seaside cottage or mountain cabin where I can focus on writing yet work in some daily exercise in a beautiful setting.
How has the industry changed since you became a writer?
So much more is expected from a writer these days. Not only are you supposed to write a bestselling book but also market it like wild to help it become a bestseller! And get away to write yet stay connected with your audience almost 24/7. Without God a writer's life would feel overwhelming. Each day I say to myself "Look at the Mountain Mover not the mountain of responsibilities,"
What advice would you give to aspiring writers?
STAY TRUE TO GOD'S WORD! Do not let your name on a cover, a place on a platform, a viral video or success in social media sway you from GOD'S core values. Preform with a servants' heart for an audience of ONE– The Lord.
What book/s are you reading at present?
Sacred Rest by Dr Saundra Dalton
What project are you working on next?
Finding Joy in Philippians– the next in the Discovering series of creative Bible studies from Harvest House. I am a co-author (with Jean E Jones and Karla Dornacher) I do the study first, then I write my devotional sections.
What does your writing process look like?
For me, I am ADHD, so it is emotionally like strapping myself down on a rocket pointed up to the heavens. I am trying to stay focused on God, and like an astronaut, I am a well-trained, well equipped adventurer, strapped in for the ride of my life and I can't get up and out until the journey is completed!
What is your favorite quote from a Christian leader?
In my book, 7 Simple Skills for Every Woman: Success at Keeping it All Together, I quote Elizabeth Elliot "Do the next right thing"
Where did your love of books/storytelling/reading/writing/etc. come from?
When your dad is an abusive alcoholic and your home is filled with domestic violence,
books become a place of safe refuge. And as a child, Bible study and memorization became my life compass. I would climb a tree and read all day, or pack up lunch for myself and my siblings and take along art supplies on a picnic in the back pasture of our farm. They would color and I would write or read.
Who is your favorite author?
Impossible for me to answer! All my friends are fabulous authors– but if pressed, at age 19, when I read Jerry Bridges "Pursuit of Holiness" it impacted my life choices in a dramatic and positive way. And creatively, Anne Kimell's I LOVE THE WORD IMPOSSIBLE challenged me to dream GOD-SIZED dreams for my life. And Kay Arthur's Precept Bible studies and BSF helped shape me.
Learn more about Pam Farrel and connect with her at: www.LoveWise.com
See you at the Bible Study Expo!