I'm so excited to feature SuperGal vs. God by Lori Hynson as this month's book giveaway. Read below how you can enter the drawing to win a copy!
SuperGal could handle anything life threw her way. Until she couldn't.
Lori appears to be SuperGal. But privately, she anxiously battles to maintain control over her out-of-control life. She thought she could do anything but felt the pressure to do everything. There was no room for God in her realm.
SuperGal wasn't looking for love, but when she meets handsome tenor Ben, her battle-hardened heart begins to melt. After only six short weeks, Lori's joy turns to despair when Ben becomes critically ill. Suddenly, her carefully-constructed world begins to unravel.
As God and Satan line up for the final, ultimate battle for Ben's life and Lori's soul, all she can do is stand near the door of the hospital room, helpless and broken. This SuperGal had to face her own failure as she faced this dying man. The fixer needed to be fixed.
SuperGal vs. God tells the riveting tale of God's work in Lori's life.
Here's an excerpt:
December 31, 1999
"What did you say? I can hardly hear you." SuperGal stabbed at the buttons of the walkie-talkiec lipped to the neckline of her dress with one hand and steered her car with the other.
"The kids' comedian, the TV guy, hasn't shown up," Erica yelled. "And he's due onstage in fifteen minutes." My nineteen-year-old daughter, Erica, had been pressed into service as a stage volunteer this evening.
"Are you serious? Give me a break!" SuperGal slammed her hand on the car's dashboard. "I gave him strict instructions to be there forty-five minutes before his show time. Moron! I'll be there in five."
SuperGal threw her car in gear and peeled out into the night. She was on her way to resolve the problem. On her way to save the day.
Again.
It was, gee, only the seventh frantic call from one of the volunteers, and the event was just getting underway.
SuperGal shook her head in disgust. Was there no one else in the world, aside from her, who could follow instructions? Read the emails? Act responsibly?
How hard was that?
She pulled up to the curb in front of the local Catholic school where some of the night's events would take place. The placard on her dashboard gave her the right to park anywhere she wanted, even illegally, just for this evening.
Power trip, baby! The police knew she was running the show tonight and had given her a special permit as a committee leader.
Once out of the car, SuperGal took a moment to smooth her full-length black evening gown with her hands and push back her hair from her face. As she did, a few sparkles from her dress migrated to her forehead.
Her black Doc Martens ankle boots, paired with the long gown, she thought, gave her an artsy, hipster vibe.
Sure, she could have worn jeans and sneakers, knowing she would be on the run for the entire evening.
But no. Wouldn't happen. Not SuperGal.
Not only must she efficiently run her corner of the world, but she must look cool while doing so. Besides, the media had arrived at the event in full force. Someone was sure to snap her photo for tomorrow's newspaper.
It was, after all, a big night.
Maybe one of the biggest ever.
New Year's Eve 1999. The brink of a new millennium.
And the dawn of a new era for SuperGal.
She knew nothing about that. She knew only that she needed to pull off this huge event tonight. She had spent many hard and frustrating hours over the last seven months making sure it would be perfect.
It'd better be, or she'd have someone's head.
God
Meanwhile…God put down His pen, satisfied. The plan for SuperGal was ready, but He would implement it ever so slowly. He wasn't ready to tip His hand.
He would break it to her gently.
SuperGal
Well, at least my own middle-aged version of her, minus any skimpy leotard or patent leather boots. At age forty-five I was still cute. (Attractive sounds so . . . I don't know, middle-aged.) I was physically active and had lots of life in me. I could rock a cute suit—with stylish accessories, of course—like nobody's business.
SuperGal? Booyah!
Successful career? Check!
Community leader? Check!
Empty nest mother of two grown daughters and one six-year-old granddaughter? Uh-huh!
Popular, cute, accomplished? Check, check, and. . . you get the picture.
Oh, and tangled in a twenty-five year teenage marriage that had proven unhealthy from the start?
Sigh—check.
But this SuperGal was determined to tackle whatever life threw her way. And she could do it all by herself.
She didn't need anyone's help to solve her problems, by golly. She would pull herself up by her bootstraps, as she had always done.
No matter the obstacle.
Heeerrrre's SuperGal!
Rrroarrrr!
God
God watched then slowly shook His head.
Who did she think had given her the bootstraps?
Thank you, Lori, for sharing the exciting beginning of your book which goes on to tell of God's healing in your life.
To enter to win an autographed copy of SuperGal vs. God, (print or Kindle), make a comment on this blog post. I will draw the winner late Friday night August 16th. Only USA addresses can win. UPDATE: CONGRATULATIONS TO MEGHAN E for winning the drawing. I will connect you with Lori.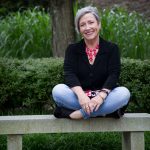 Lori Hynson is a Recovering SuperGalaholic, author, speaker, Bible teacher, and singer. Her life ministry is to encourage women to recognize and be healed of their SuperGal burdens through God's Word and embrace the freedom in their new life in Christ.
Reach Lori at: https://lorihynson.com/
AMAZON LINK TO SUPERGAL VS GOD: https://amzn.to/2JFHYkP
AMAZON LINK TO SUPERGAL VS GOD – THE BIBLE STUDY AND BOOK CLUB GUIDE https://amzn.to/32xt8nK