I'm sorry I've been absent but ministry life has been wonderfully busy. So I'm back and delighted to offer this month's book giveaway in a fabulous, practical, and encouraging book, 12 Ways to Experience More With Your Husband by Cindi McMenamin.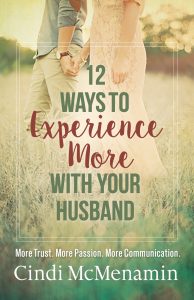 Read below how you can put your name in to win an autographed copy from Cindi. UPDATE: The winner of Cindi's book is Cathi. Congratulations to Cathi!
Four Ways to Close the Communication Gap with Your Husband
By Cindi McMenamin
One of the most common complaints I hear from wives – even those who have been married for decades – is that their husbands fail to communicate with them.
But I've learned through the years (three decades of marriage, in fact) that a communication gap, which often results in emotional distance between the two of you, is often something that can be remedied on our end with a little bit of grace and know-how.
Have you found yourself thinking – or verbalizing to a friend – the following frustrations?
I don't know how to talk to my husband without him becoming defensive.
I've tried everything, he just won't talk to me.
No matter what I say it comes out wrong. Is it me or is it him?
Whether you've thought or said those things or heard other women say them, that gap – which can leave a husband and wife feeling isolated from one another – is more serious than you may realize.
A lack of communication is now the No. 1 cause for divorce in America. Just a decade ago it was adultery, but today failing to communicate, communicating poorly, or just letting the emotional gap widen between a husband and wife can be most fatal to marriages.
Eliminating the communication gap is essential to experiencing more in your marriage. That is the primary reason I wrote my newest book, 12 Ways to Experience More with Your Husband. You and I can be experiencing more trust, more passion, and yes, more communication with our husbands when we understand what motivates them, as well as what wounds them.
For years, my husband (Hugh) and I struggled with this communication gap because of our many differences. He is an introvert. I am an extrovert. He came from a family that stuffed and stifled their feelings. I came from a family that verbally over-communicated their feelings. To this day, Hugh will readily admit he is not the communicator in our marriage. I am. But just because I'm a writer, speaker, and therefore a communicator by profession, does not necessarily mean I communicate well with him. In fact, because I know how to communicate in general I figured I had it made when I got married. I was so wrong.
Through the years my husband and I have both had to figure out how to communicate well with each other.
We did that by developing an awareness of what was causing us to close off from one another. And get this. We weren't even aware that we were reacting to one another out of unresolved issues in our lives.   
Reacting Out of Our Pain
A counselor friend of mine shared with me that it is human nature for couples to react to one another out of their pain.Certain words or situations will trigger pain in us and we end up reacting defensively. It's natural, then, to filter our life's experiences through that grid of pain and sometimes end up seeing our spouse – rather than an unhealed issue in our lives – as the problem.
Here are some ways to identify and let God heal the issues so you can better communicate and close the gap with your husband:
Realize the deeper core wound that is driving the problem or argument. When you and I first understand our own pain and insecurities and then develop a greater understanding of what causes our husbands' pain, we can work to better communicate and reconnect. Instead of thinking my spouse is just an angry man, say "I had no idea that my husband struggled so much with feeling he was not succeeding in the relationship." What we focus on grows. If we focus on what our husbands are doing wrong, that will grow. If we focus on the fact that he's a good guy that will heighten our awareness to see that.
Resist the urge to be defensive, accusative, or angry at your husband's words, actions, or responses. People who hurt, hurt people. When your husband lashes out or says something unkind, it's possible he is feeling lashed out against. Be open and curious. Tell yourself, "My husband is a good man, he is loving and is maybe acting like a jerk right now, but what is going on inside of him?" Practice Ephesians 4:29 and make sure, even in the heat of the moment, that you don't let "any unwholesome talk come out of your mouths, but only what is helpful for building others up according to their needs, that it may benefit those who listen" (NIV).
Reject the lies that get you off course and create division between you and your spouse. Your husband's wounds aren't the only ones in the picture. Us wives get triggered by a situation or by certain words and then we believe our lie: I am alone. I am devalued. I'm not appreciated. I'm not respected. We end up responding to our husbands because we believe a lie that doesn't have anything to do with them.
Receive the truth of who you are in Christ. Once you receive the truth that you are not alone, you are valuable in Christ's eyes, and you are deeply loved by God, you can be more emotionally regulated and attuned to your husband. John 8:32 tells us "Then you will know the truth and the truth will set you free."
Instead of getting anxious, withdrawing from, or lecturing your husband when you feel hurt, you can remember the One who has redeemed your life and say "I realize when you said this I felt devalued and started to shut down, but now I realize I am valued in Christ and I can choose to be connected and get close to you."
Each of us has to feel emotionally safe in order to start moving toward the other person to close the gap. Our only safety is in our relationship with Jesus. When we understand who we are in His eyes and we feel safe in Him, we can feel safe with others, too. And then we can start actively closing that communication gap.
Which of these steps do you find is the most challenging?
Thank you, Cindi, for sharing with us. To enter the drawing for Cindi's book, leave any comment on my blog. I will draw the winner on November 22, 2019 and notify the winner. (U.S. mailing residents only please). THE WINNER IS CATHI AND THE DRAWING IS CLOSED.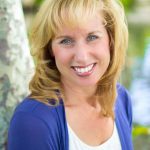 Cindi McMenamin is a national speaker and author of 17 books who helps women strengthen their relationship with God and others. She has been married 30 years to Hugh, a pastor and introvert, who shared his insights in her newest book, 12 Ways to Experience More with Your Husband, as well as her other books on marriage: When a Woman Inspires Her Husband and When Couples Walk Together: 31 Days to a Closer Connection. For more on her ministry and discounts on her resources to strengthen your soul, marriage, and parenting, see her website:www.StrengthForTheSoul.com.