The New Year is commonly our time to make new devotional habits.
Yet often we find it so hard to follow through and fulfill our wonderful goals. Why?
Before I address why, take this little quiz. For each statement that you think is fairly applicable to you, even if you don't always see it in your life, check the statement mentally and add up the ones you relate to. Here's the list.
_____ I keep waiting to become better so that God can love me completely.
_____ I spend lots of energy evaluating my performance.
_____ I tend to think in terms of "all or nothing."
_____ I think I should have my act together by now.
_____ My expectations tend to be unrealistic.
_____For me, "good" is rarely "good enough."
_____I often wonder why people can't get their act together.
_____I'm compelled to straighten out misunderstandings.
_____I won't begin something if there's a possibility I can't do it well.
(From my book Pure-Hearted: The Blessings of Living Out God's Glory).
If you scored 3 or more, you have perfectionist tendencies. The higher the number scored, the more difficult it is to fulfill goals like how often you'll have a Bible reading time. Or how much you'll study in the Bible. Or how long you'll pray at a time.
That's because a perfectionist (of which I am one!) tends to think of "all or nothing." If we don't have a Bible reading time of thirty minutes, we feel like a failure. If we don't keep a journal and can track all of our answered prayers, we think we've done it wrong. Any number of unrealistic expectations can discourage us and before we know it, it's February and we've stopped even trying. I know!
Here is what has helped me.
Instead of 100% growth in my devotional time, think 1%. I know. I know. That's too little, right?
Does a 1% goal feel like it's worthless? Well, even that thinking is perfectionistic kind of thinking and leads to discouragement and giving up.
I truly believe if we start with a 1% goal, success and encouragement will breed faithfulness and consistency. I've seen it happen. So here are some 1% goals.
I will read ten verses in the book of John three times this week.
As I read, I will pick out one idea to think about on the other days.
I will pray for one person for one minute each day (or three times this week).
I will give one sincere compliment one time each day (or three times this week).
Get the idea? Does this mean you can't do more? No. But the goal in your mind is small. When you meet it, give God credit and thank Him. If you don't meet it, ask for His forgiveness and receive His cleansing. Remind yourself He wants to encourage you, not demand perfection. Otherwise, God would not have prompted the Apostle Paul to write to the Philippians:
"And I am sure of this, that he who began a good work in you will bring it to completion at the day of Jesus Christ." (Philippians 1:6).
No, he would have written, "And I am sure of this, that he who began a good work in you wants to make it perfect right now!" Thank you, Jesus, you didn't prompt Paul that way!
What small goal would you like to ask God to help you with? It can be in any area of life. Would you share here what it is? We can uphold each other in prayer and encouragement.
Check out my book Pure-Hearted. I know it will encourage your heart towards purer motives. Did you notice I wrote "purer"–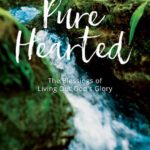 not perfect? I haven't arrived at perfect yet. God is patient and knows won't happen until we reach heaven. Isn't that great news?