For my February book feature and drawing, I'm excited to feature Deb DeArmond's new book, Bumper Sticker Be-Attitudes.
Bumper Sticker Be-Attitudes is a devotional built on the belief there are spiritual principles everywhere we look—if we open our eyes to the truth. Here's a sample of the delightful way Deb takes a common saying and inspires us to seek God in every area of life. Read below for how to enter the drawing to win Deb's book. UPDATE; Nan Carter is the winner of the drawing for Deb's book. Congratulations, Nan!
A Watched Pot Never Boils
by Deb DeArmond
Trust God from the bottom of your heart; don't try to figure out everything on your own. Listen for God's voice in everything you do, everywhere you go; he's the one who will keep you on track. Don't assume that you know it all. Run to God! (Proverbs 3:5-6 MSG)
"A watched pot never boils, babe," I advised my newlywed husband. He continued to stare at the pot filled with still stiff pasta.
Silence. Then, "What kind of pot is it?" he asked.
"A watched pot. You know–it will never boil."
His turned quickly toward me. "Then why cook the pasta in it?"
We'd received many kitchen items as wedding gifts, which included a variety of pots and pans: Crockpots, Dutch ovens, frying pans and more. He misunderstood my definition of a "watched" pot. It was not a brand of cookware. I literally meant a pot that's being watched or observed. Apparently, my mother had a few colloquialisms his didn't.
The concept is simple: the more closely we watch to ensure something happens, the more the outcome may be delayed
Life is like that at times. The single surfing the web for the perfect mate. The monthly disappointment when trying to conceive. The closer we watch, the longer it takes.  James 5:7 reminds us we don't control the timing of every aspect of our lives.  "Consider the farmers who patiently wait for the rains in the fall and in the spring. They eagerly look for the valuable harvest to ripen" (NLT). The farmer doesn't plant his seed, watch it minute by minute, then dig  up the ground to make sure it's still there. He trusts the process.
Why is this hard to do? Simple. We prefer to control our circumstances. For Christians, that's a problem. God asks us to trust Him with our lives. That's his process.
My mother was injured in a devastating accident. Doctors decided there was nothing they could do but wait and see. The news was difficult, but it was easy for us to pray and trust a faithful God. Why was it easy this time? Because there was not a bit we could do. No other efforts were possible.
But when dealing with financial difficulties or concerns about a child's behavior, it's easy to take matters into our own hands, we use whatever methods are available to us. Take a second job to deal with the money problems. Read a book by a popular author on childrearing. Neither method is wrong, unless they replace turning to God in prayer and trust him for answers.
God doesn't expect us to sit  by and wait without action in difficult times. He expects us to pray and seek His will. He may lead us to pursue an idea that occurred to us. But he wants to direct the traffic in our lives, trusting the process, trusting him.
Faith is not built when all is well; it's built when times are tough.
The more we monitor and work to manage our circumstances, the more frustrated we become. If you want to watch something, forget the pot. Watch God fulfill His word to His children!
Today's Tips & Challenge: What pot are you watching? Where's God asking you to let go and let Him take control? What's your first step?
Thank you, Deb, for inspiring us! To enter the drawing: make a comment on my blog post by Saturday, February 8th, 2020. Only USA addresses can win. UPDATE: Nan Carter is the winner of the drawing.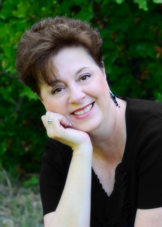 Deb DeArmond is an expert in the fields of communication, relationship and conflict resolution. A writer and popular professional speaker, Deb focuses on topics related to the family and women. Kregel Publications released her first book in November 2013 entitled, Related by Chance, Family by Choice. Abingdon Press published I Choose You Today: 31 Choices to Make Love Last in June 2015 and Don't Go to Bed Angry: Stay Up and Fight in June 2016. Her newest book, released in November 2019, is a humorous devotional entitled Bumper Sticker Be-Attitudes, now available at Amazon. Link:https://amzn.to/31AzzF6
Website: www.debdearmond.com
https://www.pinterest.com/deb_dearmond/
https://www.facebook.com/AuthorDebDeArmond