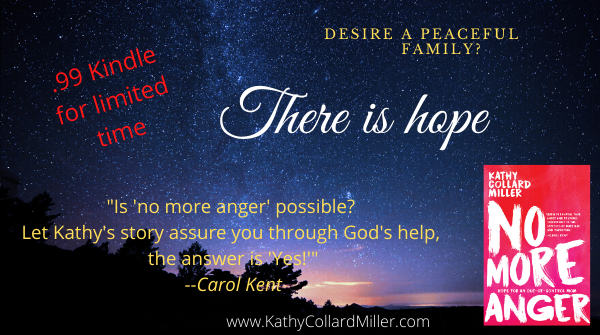 Is there hope when we're hopeless? Right now we are in what sometimes seems like a hopeless situation: a pandemic. Our lives can seem chaotic, out of control, and confusing. We miss having hugs, freedom, choices, and not having to think about how to stay safe. We don't like this!
It is predicted that there will be more widespread child abuse, domestic violence, and other forms of acting out. Our hearts hurt for those who feel trapped and helpless.
Interestingly, April is Child Abuse Prevention Month. How ironic. Yet what better time to focus on the troubles people are facing and how God cares and offers hope.
(By the times this reaches you, the price should be lowered–as of April 4th but only for 2 days. If it hasn't been lowered, please check back.)
It's my story of how over 40 years ago, God delivered me from being a child abuser and also healed Larry and my dysfunctional marriage. My desire through my book is to give encouragement for any difficulty anyone is facing, even if they are not abusive. Because the basic truths God used to give me patience and restore our marriage's joy are the truths that apply to anyone in any challenge.
My story reads like a suspense novel in that you'll wonder how God can ever help a woman who is depressed, suicidal, and hate-filled. And you'll wonder how such a marriage with misunderstandings, insensitivity, and selfishness can ever be healed.
But God did it! He helped us with these truths:
God never gives up. He is always working even when we can't see His hand.

God knows the way. We may not agree He has the right method but He will persevere and fulfill the best plan.

God never stops loving us. We can believe He has given up on us since He hasn't answered our prayer for an instantaneous deliverance. But if we'll look for the progressive work He's doing, we'll see evidence of His love.

God is stronger than any forces or temptations we face. We may only notice our weakness but He is confident His strength will be spotlighted.
Those truths are only a few of the facts God revealed to Larry and I as we journeyed to wholeness. Plus, He healed the relationship between our daughter and myself that seemed so irreparably broken. Nothing is beyond His grasp of power, love, kindness, and beauty.
The discounted price for No More Anger is for a limited time so please don't delay. My passion is that our story will increase your trust in God, regardless of the challenges you face. Even a pandemic.
To find out more information about No More Anger, check it out on Amazon: