Today's blog post was written by Rebecca Barlow Jordan. Rebecca is a day-voted follower of Jesus with a passion for helping others find joy and purposeful living through deeper intimacy with God.
As a bestselling, inspirational author, she has authored, coauthored, and contributed to over 20 books, including her Day-votions®, 40 Days, and Daily in Your Presence series. For several years she was a co-writer for Guideposts' Mornings with Jesus devotionals, and she is also a contributing writer for Crosswalk.com and a devotional writer for their Crosswalk Couple devotions. In addition, she has sold over 2000 greeting cards, devotions, articles, and other inspirational pieces. Rebecca is also a minister's wife, mom, and "Mimi" to four grandchildren.
You can find more about Rebecca on her website where she blogs weekly heart to heart encouragement and is also active on Facebook and Pinterest.
I asked Rebecca if I could share her poem with you because its insights make Habakkuk 3:17-18 come alive and applicable for today's challenges. The background of the biblical book of Habakkuk is that the prophet struggles with surrendering to God's plan of allowing the Assyrians to attack the Israelites, not only killing most of them, but also taking many into exile. After his struggle, Habakkuk expresses his surrender as,
Even though the fig trees have no blossoms,
and there are no grapes on the vines;
even though the olive crop fails,
and the fields lie empty and barren;
even though the flocks die in the fields,
and the cattle barns are empty,
yet I will rejoice in the Lord!
I will be joyful in the God of my salvation! (Habakkuk 3:17-18 NLT)
Is your faith in God struggling right now? Would you like to know more about "no matter what" faith in God? Can you make the following declaration of faith?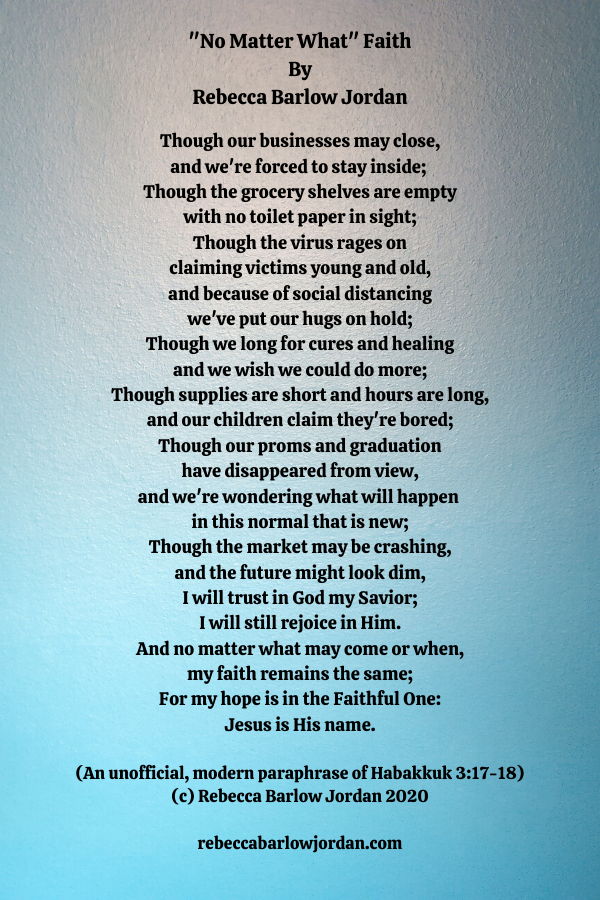 We find "no matter what" faith in God when we decide to trust Him in all things–even when times of discouragement, difficulty, or despair threaten us to turn away. But one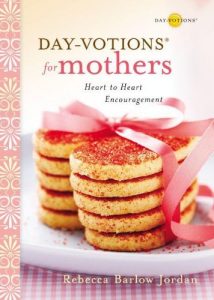 thing I have learned. You can read the rest of Rebecca's original blog post here.