Raising kids and letting go is not for the faint of heart.
How true. I've gone through it twice and it's a challenge. That's why I'm excited to feature the book Fledge: Launching your Kids without Losing Your Mind by Brenda L. Yoder that will help you navigate this changing time.
And yes, it's a book drawing! So read to the end and find out how to enter. UPDATE: Winner is Debby Wong! Congratulations!
You were just getting this thing down: the changing trends, the non-stop schedules, the adolescent hormones. Then suddenly the oldest is gone, the younger ones seem to need you less, and your heart feels as empty as your nest is about to become.
But your job as a parent isn't over, it's just changing. In Fledge, counselor, educator, and mother Brenda L. Yoder helps Christian parents navigate the many transitions in the launching years. How do you parent tweens at home and young adults away from home at the same time? What's a good balance between boundaries and freedom? How can you pray for your fledgling youth? And what do you do with all that mom grief?
Raising kids and letting go is not for the faint of heart, and it takes stamina to let go gracefully. Fledge will help you release your children into the future God has for them.

5 Parenting Truths for Releasing Your Kids
Brenda L. Yoder, LMHC
I walked out of my classroom pulling my cart of books and memorabilia behind me. I turned off the lights, shut the door, and my heart broke in two.
I had failed. I wondered why other people could handle raising a large family while teaching high schoolers but I couldn't. The stress of teaching over 150 high schoolers and parenting four kids from high school to first grade took its toll on me.
Our busy family schedule with sports, chauffeuring kids, and homework pulled me in different directions, in addition to grading papers, getting groceries, and moody teens. I was stressed out, irritable, and reactionary most of the time with yelling and angry outbursts towards my children.
I was a mom in the early fledging stage of parenting—the stage of release.
My oldest was a high school sophomore and the youngest was in first grade. Life passed by year after year and my parenting and professional workload increased along with it. This particular school year, my class size swelled. Being emotionally and physically exhausted when I got home, I had little patience for the barrage of "Mom, Mom, Mom" demands when I walked through the door. I had little tolerance for snarky comments or disrespectful attitudes. I dreamed of the day when fewer kids were in the house so I could catch a break from the stress and mess that had become our life.
Then I realized there were only two years left with all four of my children at home. If something didn't change, the memories my children would have of the years with all of us at home would be of an irritable, contentious mom. Something needed to change before my firstborn went to college.
That change had to come from me.
I made changes to my personal and professional life, allowing me to not wish away the time my kids were home. I also wrote Fledge: Launching Your Kids Without Losing Your Mind as a handbook for parents in the season of raising and releasing kids. Here are a few principles from the book.
There's no simple formula for the perfect Christian family. Each family has their own struggles. There's not an easy answer for most family problems with teens and young adults, except for biblical principles personally applied to individual families.
Your children's choices do not define you as a parent or excuse your behavior. When I realized my reactionary responses were negatively affecting our family, I had to focus on my own behavior, not my children's. I had to enlist godly parenting rather than prideful, reactionary parenting.
Teens and young adults need you invested in their mess. Mental health needs are significant among teens and young adults. They need parents more engaged in their emotional and mental health than their popularity status.
Extend grace to yourself. Most parents do the best we know at the time. Give yourself grace with your success and failures. You're not alone in either category.
Pursue God during the years your kids are fledging the nest. The biblical principles in Fledge: Launching Your Kids Without Losing Your Mind come from Psalm 127. God's Word is the best parenting primer for the hardest moments parenting teens and young adults.
Key Features of Fledge:
Equips parents to define their parenting strategy and goals base on biblical principles.
Includes helpful information of performance parenting versus relationship parenting.
Examines themes such as enabling, enmeshment, entitlement, self-care, forgiveness andcommunication.
Helps parents set boundaries and pass on critical life skills.
Features reflection questions as the end of each chapter.
Thank you for sharing Brenda. I wish I would have had your book when my children were leaving the nest.
My readers: you can enter the drawing by making a comment on the blog post. The drawing closes on Thursday, September 10, 2020. UPDATE: The winner is Debby Wong!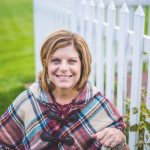 Brenda Yoder is a speaker, author, Licensed Mental Health Counselor, and life coach whose passion is encouraging others when life doesn't fit the storybook image. Her new book, Fledge: Launching Your Kids Without Losing Your Mind is a personal handbook for parents in the season of raising and releasing kids and is endorsed by Jim Daly of Focus on the Family. Brenda's been featured in Chicken Soup for the Soul books, the Washington Post, and For Every Mom. Brenda is also former teacher and school counselor and was twice awarded the Touchstone Award for teachers. Her ministry and podcast, Life Beyond the Picket Fence, is found at brendayoder.com where she writes about faith, life, and family beyond the storybook image. Brenda is a wife and mom of four children, ranging from college students to adults, and lives on a farm in Indiana.