I'm excited to feature as a book giveaway A Woman God Can Bless by Sharon Norris Elliott.
Sharon has so much wisdom, I know you'll be blessed by her book. Find out below how to enter the drawing!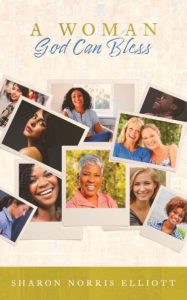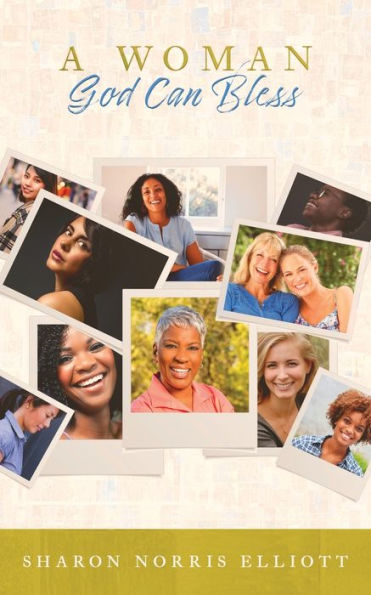 Here's a delightful sample from her book.
When Theology and Reality Collide
by Sharon Norris Elliott
Sometimes the simplest things are the most difficult. Such seems to be the case with actually walking out the beliefs we espouse as Christian women. In many of our cases, I think it is safe to say with few strong contradictions that we believe more than we live…
For example, to enjoy the free gift of salvation to its highest, God says for us to have no other gods before Him. That's a simple instruction, yet we enthrone, or fail to dethrone, our careers, our children, and even the other gifts He has given us, placing Him second, third, or even a distant fourth. God says for us to love our neighbors as we love ourselves. Again, a simple instruction, yet we point out their imperfections as an excuse for not extending to them the love God has commanded.
Indeed, we are masters at complicating what the Master intended to be the simplest things.
So, no wonder we can start to wonder whether or not we are women God can bless. Why should God bless us when we have so convoluted what it means to live as born again, kingdom women that our claim to be Christians is barely recognizable? Oh, we look great on Sunday morning from 8AM – noon; however, who are we when we get home? Do we allow the Word of God to penetrate our feelings and comments toward that race of people our parents taught us to mistrust? Do we surrender our thought life? Do we submit our reactions to God when our husband says that insensitive thing again?
Here's the thing. We're clear about the surety of our salvation. The disconnect comes when we come face-to-face with what we are having trouble doing. Each of us is personally charged to "work out your own salvation with fear and trembling; for it is God who works in you both to will and to do for His good pleasure." This is not a scripture about obtaining salvation. This is a scripture about the responsibility we have to now work that salvation out of us. We must work out the salvation that God has worked in. We must let grow what God has planted; let blossom what He has sown.
Her answer proved that she obviously was just hurting too much for the great news to register. Martha's mind was spinning. Yeah, yeah, yeah. I believe all the stuff You ever said about Yourself, but what good is that to me NOW? I don't need a doctrinal review; I needed Your touch on my dying brother four days ago…
We too miss the fact that a theology review is exactly what we always need, especially when we judge that Jesus has failed us.
Theology, what is true about God, will always be able to speak to our reality if we put what is true about God above the reality of the situation, rather than the other way around. Our lives are thrown into confusion because we start with our situation and try to force God to fit into it.
You see, it's not enough to have God's truth in our brains when it comes to living this Christian life. Unless the truth has infiltrated our hearts, it won't make a hill of beans of a difference when life socks it to us.
Amen! Thank you, Sharon! I'm excited to give an opportunity for someone to win your book (see below).
Here's a short description of Sharon's wonderful book:
A Woman God Can Bless walks through the house of your life with you and Jesus. This book will help you ease open the doors of old patterns of behavior, ingrained habits, and accepted dispositions with which you've grown accustomed. Within these pages you will find gentle prompts that will help you let the Lord remodel those closed rooms by redesigning your thinking and behavior to line up with His will for how you should then live. The book will explore your identification with or participation in:
speaking edifying words vs. corrupt communication
Truth-telling vs. lying
Exercising restraint vs. anger
Forgiveness vs. bitterness
And more
Enter to win Sharon's book by making a comment on this blog post. I will draw the winner Sunday evening, December 13, 2020. Only USA addresses can win. UPDATE: WINNER is Beverly! Congratulations!
"Live significantly!" That's the inspiring message of Sharon Norris Elliott: author, speaker, astute Bible teacher, editor, consultant, agent, and founder/CEO of Life That Matters Ministries. She writes challenging yet encouraging books in several genres including women's non-fiction, parenting, devotional, and children's literature. Her 12th and most recently published title is A Woman God Can Bless (2020, Harambee Press). Our faith grows deeper with every page we read of any of her book
God's goodness has brought Sharon from Compton, CA, to standing before great audiences. She's a cum laude graduate of Biola University, holder of an honorary Doctor of Divinity Degree, member of ACE (Academy of Christian Editors), AWSA (Advanced Writers and Speakers Association), SCBWI (Society of Christian Book Writers and Illustrators), and a religious broadcaster on HSBN.tv. Under the Life That Matters Ministries umbrella, are her two companies: AuthorizeMe® Consulting/Coaching/Editing Firm and Literary Agency and Milk & Honey Life Retreats.
She and her husband James live in Southern California and enjoy their church, their children, and their grandchildren. Discover her books and her blog at www.LifeThatMatters.net.Join Sharon on Facebook "Live at 5 on Tuesdays (PST) = Let's Talk Books
Watch Sharon in two shows on The Holy Spirit Broadcasting Network: 

Life That Matters with Sharon Norris Elliott, and
A View from the Upper Room

from any internet-connected device at www.HSBN.tv  and on HSBN's You Tube channel. (Stream current show or view past episodes anytime!)
A Woman God Can Bless can be bought from major internet outlets and from the publisher: