Trusting God's Timetable for 2021
As we anticipate an unknown 2021, we will still be facing time pressures, even if we're stuck at home. Here's some encouragement and inspiration for knowing "God Can Do Whenever He Wants: He's Expeditious" from my book Partly Cloudy with Scattered Worries: Finding Peace in All Kinds of Weather (and situations!). The 99cent Kindle sale ends this Thursday/ December 31, 2020. Don't miss out!
We've heard it a lot. Timing is everything. And everything to worry about! We hear and experience so much pressure about time: Don't waste it; use every moment wisely; you'll only go by this way once. And then we start worrying when God doesn't keep His end of the bargain about time. He delays. He's on His own time schedule. 
Time! What a worrisome gift from God. We need to learn to trust God about our own management of time, and then we must also trust God for His timing in our lives.  
When I think about managing my own time with God's help,  I can look back and remember the exact principle that helped me release and worry less about my time pressures.
Psalm 127:1-2 says, "Unless the LORD builds the house, They labor in vain who build it; Unless the LORD guards the city, The watchman keeps awake in vain. It is vain for you to rise up early, To retire late, To eat the bread of painful labors; For He gives to His beloved even in his sleep" (NASB).
I began to believe that God could determine what I should get done in a day. Normally I would think I had to check off every item on my to-do list in order to be a super Christian. But then I began saying, "Okay, Lord, what do you want me to put first on my list?" and "What do you want me to do next?" I began to relax. "If I don't get everything done, then that's OK. I will finish what God wants me to complete because He is directing me."
Charles Swindoll encourages us by writing, "When you face an impossibility, leave it in the hands of the Specialist. Refuse to calculate. Refuse to doubt. Refuse to work it out by yourself. Refuse to worry or encourage others to worry." (pg 70, Three Steps Forward, Two Steps Back, Thomas Nelson Publishers, Nashville, TN, 1980)

 
My friend, Mary Beth, has learned the same thing. She told me, "I am mindful of a day last summer when I studied a list of eleven activities that I thought must be accomplished before the day ended. I suddenly became overwhelmed with frustration. I thought, It's impossible for me to complete all of this today, and I should!
"But then I remembered that I'm not supposed to be anxious about anything (Philippians 4:6). I reconsidered my list. Surely some of the activities were not immediate. It might just be a matter of setting priorities. After revising the items, only four of the eleven proved necessary. The other seven remained on the list with less importance. Changing the impossibility to a comfortable possibility, I happily began my morning's work, concentrating on number one, knowing that I could take more time
to do it well. After accomplishing it, I began the second. 
"At the end of the day I smiled as I reviewed the items. I had completed the top six, two more than absolutely necessary.  I felt relaxed. God is helping me realize that overloaded expectations result in disappointment, worry, and frustration. Taking a step at a time allows a more joyful attitude and actions that are pleasing to Him."
God can act whenever He wants in the midst of our time pressures! He's expeditious in directing our way if we will just turn it over to Him! At the beginning of each day, write out your list and ask God what He wants you to do item by item, project by project. And whatever you don't get done, He didn't intend for you to get done! He's a wonderful time manager! He's expeditious—speedy to get done what He wants done!
As we enter 2021, many of us may be making a resolution including better time management. Let us remind ourselves God has a better plan than we ever could think.
Remember my ebook/Kindle of Partly Cloudy with Scattered Worries: Finding Peace in All Kinds of Weather (and situations!) is only 99cents Kindle. The sale ends this Thursday/ December 31, 2020. Don't miss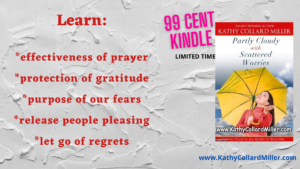 out! Check it out HERE.