I just couldn't resist letting you know about this wonderful Christmas book, Pursuing the Christ: Prayers for Christmastime early enough to enjoy it. And make a book drawing available.
Everything Jennifer Kennedy Dean writes is fabulous so I know you'll love this too. This newest book will be a Christmas tradition every year.
Here's a sample and check below how to put your name into the drawing.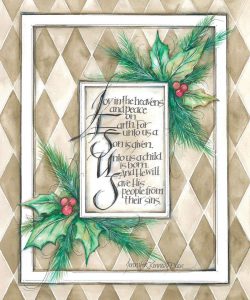 Jesus
by Jennifer Kennedy Dean
Christmas is the day we have marked on our calendars to celebrate that pivotal event upon which all human history hangs. On a certain day in time and space, the eternal Word entered into our circumstances, clothed in flesh and born of a woman. In marking time, there is before, and there is after. All time is measured from the moment when the Word became flesh and took up residence among us. 
It is easy to be distracted from the celebration's true purpose. Too many of us know the Christmas season can quickly disintegrate into a time of stress, greed, busyness, competition, and emotional overload . We enter again into the season that we regard as holy, but too often becomes encumbered with the mundane, 
This year as we approach the celebration of His coming, I challenge you to focus on the Glory, not the glitz.
Keeping our hearts anchored on Jesus, let's celebrate Him in all our festivities. Let's let the wonder of His incarnation be the center of our thoughts. The wonder that Jesus so valued each of us that He left His throne from which He heard the continual cry of "Holy, holy, holy" to take on a man's frame and hear instead, "Crucify Him!" (Revelation 4: 8; Matthew 27: 22– 23).   
He who "lives in unapproachable light" (1 Timothy 6:16) was willing to approach mankind so that frail humanity could see the glory of God "in the face of Christ" (2 Corinthians 4:5). He has revealed the invisible God, bright glory filtered through His body of flesh so we would not have to hide our faces from the unapproachable light. Because we could not bear the sight of His glory, He veiled His glory in flesh and brought the beauty of heaven right down into the muck and mess of mankind. 
Why would the Beloved become the Despised? Why would heaven's Darling become the lightning rod for heaven's wrath? Why would the
 

King become a servant? The Scripture describes it this way: "he made himself nothing by taking the very nature of a servant."

 

If the King of Kings had taken the nature of an earthly king, that would have been a stunning act of condescension. If that were the story, we would be marveling at His unfathomable act of humility. 

He did not take the form of an earthly king. He took the form of a servant. Breathtaking. Incomprehensible. Incalculable. The very God of the universe, by whom all things were created and through whom all things hold together, divested Himself of His rights and privileges to move from "God For Us" to "God With Us."
All for love's sake.
Jennifer, thank you for your thoughts which will inspire us to enjoy getting to know Jesus even more and resist allowing the glitz to mar our joy.
Here's a description of Pursuing the Christ: Prayers for Christmastime:  Filled with profound and thought-provoking insights, Pursuing the Christ is a 31-day devotional and prayer guide to help you breathe in the freshness of Christ during the holiday season. Based on the themes of Advent, such as hope, peace, and joy, Pursuing the Christ will help you escape the holiday stress for just a moment each day as you find yourself joyfully meditating on familiar Christmas verses and some possibly not-so-familiar Messianic passages that will warm your heart as you appreciate how the season impacts your life every day of the year.
To put your name into the drawing to win Jennifer's book, write a comment on my blog by Friday evening, November 23, 2019–yes! the day after Thanksgiving. So write your comment today and you won't forget. And in the meantime, buy your own copy. If you win, you can always give it away. It's just too good not to share.
Jennifer Kennedy Dean is executive director of the Praying Life Foundation and a respected author and speaker. The author of numerous books, studies, and magazine articles specializing in prayer and spiritual formation, her book Live a Praying Life®! has been called a flagship work on prayer. Widely recognized as an unusually gifted communicator, Jennifer speaks all over the country calling God's people to discover the difference between a prayer life and a praying life.
Jennifer is the author of numerous books including Altar'd and Secrets Jesus Shared. A highly demanded speaker, her engagements include respected organizations such as the Billy Graham Training Center at the Cove and Focus on the Family. She is a member of the Advanced Writers and Speakers Association, America's National Prayer Committee, National Professional Women Association, and national prayer director and board member for Christian Women in Media.
Visit her on Facebook and her website: www.PrayingLife.org