The potential for a successful marriage is within the "seed" of every marriage relationship. It takes hard work and lots of devotion to have a heart soil that will not only support that seed but actually provide it the nutrients and ingredients that it needs to sprout, flourish and grow into a strong plant that will give glory to God.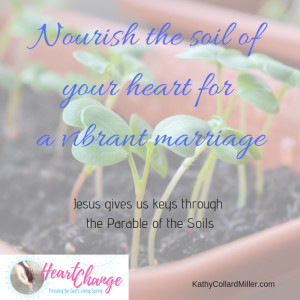 Jesus gave a parable of the soils that we can apply to "growing" our marriage in spite of traumas and trials.
The parable refers Satan will attempt to steal the seed of love, the shallowness of a lack of commitment can starve it, and a busy life can try to choke it. But through wise and loving choices, a marriage can not only survive, but thrive—and bear much fruit.
Remember the parable?
Matthew 13:1-3, 18-19 That same day Jesus went out of the house and sat by the lake. Such large crowds gathered around him that he got into a boat and sat in it, while all the people stood on the shore. Then he told them many things in parables, saying: "A farmer went out to sow his seed. As he was scattering the seed, some fell along the path, and the birds came and ate it up."
Jesus gives the application which we can apply to marriage: "Listen then to what the parable of the sower means: When anyone hears the message about the kingdom and does not understand it, the evil one comes and snatches away what was sown in his heart. This is the seed sown along the path."
In Jesus' parable, the first thing that steals away the seed of the Gospel—the "good news"—is the "evil one" who is Satan. Satan is the same one who attacks our marriages. Satan doesn't want people to receive the seed of the good news of Jesus and he also doesn't want marriages to succeed. Since God intended marriage to be an example of his unity with his Church, Satan wants to destroy marriages, especially those of Christians.
Satan's tactics in trying to divide husbands and wives against each other can come in many different forms:
bringing misunderstandings between spouses based on wrong assumptions like "he can read my mind" or "my happiness is dependent upon my husband's behavior" or "my way is the only way." The more Satan can get a husband or wife to base their responses upon wrong ideas, the more they will think negatively about the person God intends to be their "best friend."
reminding of hurts and disappointments so that a husband or wife finds it almost impossible to forgive.
giving the impression that God can't forgive a husband or wife for infidelity and the sinning party feels condemned and hopeless.
causes work or busyness, even church involvement, to seem so attractive and important that a husband or wife neglects his or her spouse.
uses the world's system of thinking that a husband or wife's needs will be met through pornography, affairs, or other sinful activities that society considers acceptable—even helpful.

 
In order to combat Satan's schemes to destroy marriage, we must work hard. Marriage requires effort and thought! We need to think through the lies Satan whispers along with ungodly, worldly ideas. We have to make difficult choices to forgive and be understanding of our spouse's inadequacies and weaknesses. If we are going to be successful in marriage, we must fight Satan by:
refusing to be deceived by ungodly ideas about marriage or selfish responses to our mate (2 Thessalonians 2:3)
knowing that we can be forgiven regardless of the sinful choices we've made against our marriage (1 John 1:9). We can also forgive our spouse for their wrong choices.
walking in the power of the Holy Spirit so that we can resist our fleshly, selfish desires and urges (Galatians 5:17)
dressing our minds and souls with the armor of God that empowers and protects us with faith, truth, righteousness, and correct thinking to reject the false ideas that Satan sends (Ephesians 6:10-17)
Even though we know Satan's attacks are bound to come, we often can't see through the smoke of our irritation to pinpoint our enemy's schemes. For instance, I focus on how Larry isn't doing things the way I think they should be done. I like to be super early at events but Larry doesn't mind if we're there at a "reasonable time"–whatever he thinks is reasonable. In each situation, it's easy for me to begin thinking Larry is doing these things to aggravate me, and I begin to look at him as the enemy. 
But the actual enemy is Satan who is trying to tear apart our unity.
As soon as we take our eyes off of each other, recognize Satan's fingerprints of conflict, and turn our eyes toward Jesus, we're back on the right track. In Ephesians 6:10-12, Paul wrote, "Finally, be strong in the Lord and in his mighty power. Put on the full armor of God so that you can take your stand against the devil's schemes. For our struggle is not against flesh and blood, but against the rulers, against the authorities, against the powers of this dark world and against the spiritual forces of evil in the heavenly realms."
Next time I'll continue to share about marriage in connection with the Parable of the Soils about the rocky and shallow soil:  Dig Deep to Stir Up a Shallow Marriage. 
And for those wondering about the book drawing from my previous post, Nicci won the drawing for a copy of Cathy Horning's book, Letters From a Mother's Heart. Be sure to get your copy at this link.