I'm excited to again feature a book for this month's giveaway. It is Karen O'Connor's Laughing All the Way: Wit, Wisdom, and Willpower for the Golden Years.
Read below about entering the drawing and in the meantime, enjoy this excerpt from Laughing All the Way.
A Privilege Few People Experience
by Karen O-Connor
The day I turned 65 I was both excited (to sign up for social security checks) and deflated over the reality I really was growing old and there was no turning back.
But not long after that birthday I gained an entirely new perspective on this thing called aging. One hot summer day my husband and I drove the high and winding road to the top of the White Mountains in California. When we arrived at the ranger station situated at 12,000 feet, we gasped for a breath in the thin, chilly air. I grabbed a parka and wool cap and minutes later, with map in hand, we set off on the four-mile trail that led through a forest of ancient pines, where some of the oldest trees on the planet were still thriving.
At the end of our hike we made a 12-mile drive to the Patriarch Forest, where more ancient trees crowded together in the midst of a barren piece of land where no human life existed. The unpaved road was rock-strewn, bumpy, and the air was hot and thick with dust. I felt like a pioneer in a covered wagon, though our station wagon had air conditioning!
We pressed on and finally I spotted a small sign that led to a parking lot beside the grove. I jumped out of the car, eager to hug a tree, grateful we had made it. We walked the trail, stopping here and there to comment on the shape or color or texture of these amazing specimens that had been on this soil thousands of years before Jesus was born.
To me it was holy ground. I wanted to congratulate each tree for surviving, for being steadfast, for doing what God had created it to do.
Every one of these trees showed their age and more. There was no hiding their humps, bumps, gnarled branches, and chubby trunks. They were anything but beautiful when compared with a graceful willow, yet I found them lovely in their own way. The ravages of age and weather had bestowed an elegance I can't describe.
I thought about myself, an older woman with a few humps and bumps of her own. Gosh, I'd been hard on myself, I realized, finding fault with my looks and the toll the aging process had taken.
How is it that I could see beauty in the trees but not in myself? Why is getting older a good thing for a tree, but a bad thing for me? Why do I look in the mirror and bemoan the wrinkles that line my face, but see in the trees a quiet dignity that has nothing to do with shape or age? I had a good cry as the truth of these words and feelings sunk in.
            Today I am an old woman, pushing into my 80s. I thank God for the opportunity to have lived this long and to continue to contribute the gifts I've been given. I really do see that getting old is a privilege few people get to enjoy and appreciate. But as we become more aware of this privilege, we're more likely to finish out our lives laughing all the way–with gratitude and joy.
Thank you, Karen, for sharing a needed perspective that as an older person, I can especially appreciate. I know your book is going to encourage, inspire, and give a thoughtful laugh for anyone, regardless of their age.
To enter the drawing (only those with US addresses can win), please make a comment on my blog. I'll draw the winner on Monday evening, December 17th, 2018. UPDATE: the winner of the drawing is Brenda! Congratulations, Brenda!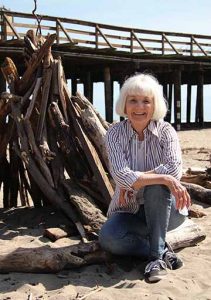 Karen O'Connor is an award-winning and best-selling author of 70 books for children and adults and a writing mentor for BraveWriter.com. She now specializes in writing books, blogs, and magazine articles for seniors. Her best-selling books include Help, Lord! I'm Having a Senior Moment (Baker Publishing Group) and Gettin' Old Ain't For Wimps (Harvest House).
Karen received the Special Recognition Award at the Mount Hermon Christian Writers Conference in 2002 for her versatility in writing and speaking. In 2004 she accepted the International Reading Association Award for her article in Highlights magazine on Kurdish refugees.
Here's more about Karen's book: Laughing All the Way: Wit, Wisdom and Willpower for the Golden Years shares inspiration and practical insight, drawing from her own experiences to help you glide through your golden years with grace, humor, and anticipation. Karen shares funny and poignant personal anecdotes to encourage you to make new choices, accept new challenges, take new chances, and open new chapters in your life.
Included are 3 insightful tidbits in each anecdote:
Wit: "I never made a mistake in my life. I thought I did once but I was wrong." Charles M. Schulz

Wisdom: "We all stumble in many ways" (James 3:2)

 Willpower: "I will count myself human and let go of my senior moments. After all, I am a senior."
Connect with Karen at: