Every month, I love hosting a book drawing. This month I'm excited to feature "Enjoy Today, Own Tomorrow: Discover the Power to Live the Live You Love" by Laine Lawson Craft. And you could win it! Read how below!
Enjoy this encouraging excerpt from Laine's book!
Are you ready to invest in you? Don't look any further; your rescue is here!
by Laine Lawson Craft
To the woman who feels worthless, hopeless, and may not even believe in the possibilities this book could bring, I know it is hard to take a risk toward healing or to even consider reading this book.
I get it; I understand. I was you—hopeless, lifeless, and powerless. I had lost hope in some of the people closest to me whom I loved most dearly. I had lost faith in the ones who represented God. My own shame kept me from walking into a church. Questions rolled through my mind. Will they judge me? Will they see me as a liability? Will anyone truly love me if they know what I've done? Am I too far gone for God? Life became completely unbearable, and that forced me totake a risk and a step toward investing in myself.
All of us have endured incredible hurts and faced great tragedies, tests, and trials. Many of us have never healed from these deep emotional wounds. Do yourself a favor, and don't waste another second of your day! Take the risk. I guarantee you will find hope and discover the power needed in the pages of this book to Enjoy Today and Own Tomorrow beginning right now. That is the reason I wrote this book. Hope is available, healing is possible, and the power you need is waiting!
When you reconnect, realign, and reactivate your life, the power you will discover allows you to be loved and love others all over again . . . and to live the life you love!
As we continue to think on who God is and redefine Him in our lives, He begins to mold our hearts and desires. Our situations may be incredibly difficult, but we can partner with God and face them. We can act on what we know about God in response to His great love for us. We nurture more hope. We find a greater level of trust and confidence in Him and who He is. We are equipped to better fight the evil and darkness that the day brings because we know God. We experience the love and power of God personally each day. We learn a new kind of joy while in the midst of storms, trials, sin, and suffering. We are not alone.
At the end of each chapter in my book is a call to action. These pages are for your personal journaling, your questions, and your reflections. Ask the Lord for the courage to walk out this God kind of life. Invite God into your world. Allow Him to reshape your thoughts and mend your heart. Ask Him to create new ways to know Him. When we know God and accept His great love for us, we individually activate His power. Living within a God-centered life that's powered by Him will enable us to accomplish God's best. Now dig in with me as we walk down the healing path to reconnect, realign, and reactivate our hearts and shift our lives into a new journey so we can enjoy today and own tomorrow
Thank you, Laine, for sharing with us.
For my readers: enter the drawing by making a comment on the blog post. USA addresses only can win. Drawing closes on Sunday, February 14, 2021. UPDATE: the winner of the drawing is Danielle. Congratulations, Danielle!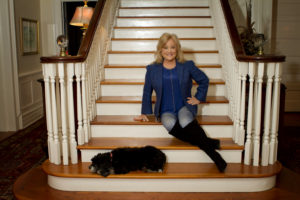 Firecracker. Funny. Authentic. Encouraging. These words describe Laine Lawson Craft— Best-selling award winning author and speaker of Enjoy Today Own Tomorrow: Discover the power to Live the Life You Love. Laine has a weekly podcast, Enjoy Today Own Tomorrow Podcast sharing stories of hope with real life applications helping many find healing. She is LIVE on Facebook every Thursday night at 7 p.m. central. She was a publisher of a nationally circulated magazine and host of The WHOA Show television program. In Laine's intimate, transparent, and approachable style, she shares from her personal testimony of how God has moved many mountains in her life which leaves women knowing that God can do it for them, too! Her passion is to share to all women globally that God loves them right where they are and He desperately desires an intimate relationship with them right now. Laine's heart is to break down the barriers that keep us from going directly to God with our mask off and believing that HE can do the impossible!
Laine's favorite thing to do when she is not working is to be with her family! She loves to cook and entertain. She enjoys singing and being out in nature—she loves the beach. Laine loves to laugh and make life a party wherever she goes. Laine has been married to Steve, her husband, for over thirty-three years and loves to spend time with her two sons and daughter and son-in-love.
You can connect with Laine at her website: www.LaineLawsonCraft.com twitter: @lainelawsoncrft Facebook: @LaineLawsonCraft and Instagram: @LaineLawsonCraft