Hello, my friends! I hope you missed me!
Larry and I moved to a different state and I'm able now to be back to my desk. I've missed you and I hope you missed me.
So I'm reconnecting by featuring a book giveaway of a fabulous parenting book by Ginger Hubbard. You are going to love this book whether you are a mother or a grandma. It's called I Can't Believe You Just Said That!: Biblical Wisdom for Taming Your Child's Tongue.
Here's an excerpt to whet your appetite. Be sure to read further on about how to enter the drawing! (UPDATE:  The  drawing  is  now  closed)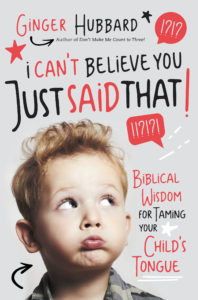 Here's 3 Steps for Getting to the Heart of Your Child's Behavior
by Ginger Hubbard
Having a plan of action can make a positive difference in how we respond to a child's need for correction. Every chapter in my book uses a three-step plan for getting to the heart of a child's behavior. This enables you to reprove your child biblically and train him or her in righteousness in correlation with specific tongue-related struggles.
Here are the three steps you will learn to implement in my book.
Step 1: Getting to the Heart of Behavior
A wise parent will learn to move beyond the words of her child by addressing the issues of the heart. After all, if the heart is reached, the behavior will take care of itself. TWEET THAT!!!!!
Thankfully, Jesus exemplified ways to get to the heart of behavior. Throughout Scripture, Jesus often asked questions whenever someone was caught in sin. He would ask a question in such a way that the sinner had to take his focus off the circumstances around him or the wrong-doings of others and place it on his own heart and motives. Jesus' questions caused people to evaluate themselves, which led to the realization of their own sin and need for the Savior. Parents do well to follow the example of Christ by asking heart-probing questions. In doing this, they help children recognize and take ownership for their sins, which, in turn, helps them realize their need for Christ.
Step 2: Reproving Your Child Biblically
In Matthew 18:15 God commands that we reprove those who are caught in sin. A biblical reproof exposes wrong by shedding light where there is darkness. But what does this look like on a day-to-day level?
Fortunately, God has faithfully provided us with what to say and how to say it.
We need not look any further than the infallible Word of God. Once we have determined the issue of the heart that drives the outward behavior, we can then address the offense in accordance with Scripture.
It is not our words but God's words that will penetrate the heart, convict the guilty, and promote change: "The Word of God is alive and active. Sharper than any double-edged sword, it penetrates even to dividing soul and spirit, joints and marrow; it judges the thoughts and attitudes of the heart" (Hebrews 4:12). Because we are provided with "everything we need for a godly life" (2 Peter 1:3), we can rest assured that a parent's guide to dealing with an unruly tongue is Scripture.
Step 3: Training Your Child in Righteousness
Too often parents are satisfied to tell the child what he has done wrong, administer some sort of consequence, and then go about their business, satisfied that they have fulfilled their parental responsibility.
The Bible is clear that we are to do more than this.
We are to take it a step further and train our children in righteousness. It is never enough to tell kids what not to do; we must teach them what to do. In the book of Ephesians we are told to "put off the old self, which is being corrupted by its deceitful desires; to be made new in the attitude of [our] minds; and to put on the new self, created to be like God in true righteousness and holiness" (4:22).
Wow! This sounds fantastic, Ginger! Thank you for making a copy of your book available for the book giveaway.
Readers: To enter the drawing, make any comment on this blog post's comment section. The drawing ends Sunday evening, June 6, 2021. Only US addresses can win. UPDATE: The winner is Candie. Congratulations!
Here's more about Ginger and her ministry.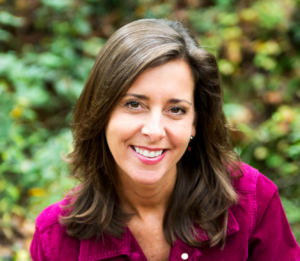 Ginger Hubbard, bestselling author of Don't Make Me Count to Three, Wise Words for Moms, and I Can't Believe You Just Said That, speaks at women's events, parenting conferences and home school conventions across the country, and co-hosts the Parenting with Ginger Hubbard Podcast. Visit her website www.GingerHubbard.com
Parenting with Ginger Hubbard is a weekly podcast to encourage and equip parents to reach the hearts of their children and point them to the transformational power of Christ. Learn how to move past the frustrations of not knowing how to handle issues of disobedience and defiance, and into a confident, biblical, and well-balanced approach to raising your children.
Sign up now for more information about Ginger's ministry at https://www.GingerHubbard.com and receive two FREE e-books: How to Lead Your Child to Christ and How to Pray for Your Child.
Also connect with Ginger at:  Instagram – @ginger.hubbard / Facebook – @OfficalGingerHubbard